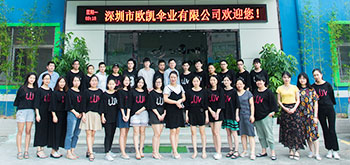 Contact Us
Address: 92 Ruyi Road, Ailian Street, Longgang District, 518172 Shenzhen, Guangdong,China
Tel: +86-755-28917751
Fax: +86-755-84068511
E-mail: sales@okumbrella.com
MSN: huangrain818@hotmail.com
Whatsapp: 008613923802932
The BSCI certification was renewed in July 2023
The BSCI certification was renewed in July 2023
Publisher: OK UMBRELLA Time: 2023/7/26 Total: 432 Views
OK Umbrella Co., Ltd was extended BSCI certification on July 10, which was fully recognized by Amfori BSCI.
Commitment to Social Compliance: OK umbrella demonstrate a strong commitment to ensuring social compliance within its supply chain and operations.

Compliance with Relevant Laws and Regulations: OK umbrella comply with all applicable local and international laws and regulations concerning labor standards, workers' rights, and social responsibilities.

No Forced or Child Labor: OK umbrella must not engage in or support any form of forced or child labor in its operations or supply chain.

Fair and Ethical Business Practices: OK umbrella should conduct its business with fairness, integrity, and ethical principles, ensuring transparent and responsible business practices.

Health and Safety Standards: OK umbrella provide a safe and healthy working environment for its employees and take necessary measures to ensure their well-being.

Freedom of Association and Collective Bargaining: OK umbrella should respect employees' right to freedom of association and collective bargaining as recognized by international labor standards.

Working Hours and Wages: OK umbrella adhere to reasonable working hours and provide fair wages in compliance with local laws and industry standards.

Non-Discrimination: OK umbrella should not discriminate against employees based on factors such as race, gender, religion, or ethnicity.

Environmental Responsibility: Though not directly related to BSCI, a company's environmental practices may also be considered as part of a comprehensive sustainability approach.